Long Beach Electrical Repairs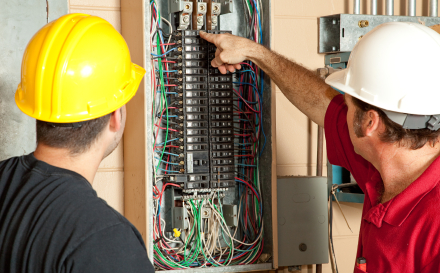 Have an electrical problem in your Long Beach home? Want to add new wiring or appliances? Or do you have an emergency that requires immediate electrical troubleshooting?

We are fortunate as a Long Beach electrician to employ and retain such a highly skilled workforce of electricians who enjoy what they do. Working carefully and efficiently, they will treat your home with respect while ensuring the job gets done right. Their pride, persistence, quality and determination are the characteristics that make Sure Line Electric Group one of the best electricians in Long Beach.
Up Front Pricing from Your Long Beach Electrician
You should NEVER have to pay the price for slow or inefficient service. But that's exactly what tends to happen when you pay electricians by the hour instead of by the job. Because we diagnosis every job and then give you the price,  you will never be surprised when you receive the bill after our work is completed. And because it's in our best interests to work as efficiently as possible, we stock our trucks with every imaginable tool and part, and train our technicians to do the job efficiently and correctly the first time around. The benefits of this system includes:
The total and exact cost is known before the job begins.
Length of time needed to do the job is no longer a concern, the price remains the same.
No hidden costs, your technician will supply you with a written cost before the job begins.
Choose whether to do the job or not based on the known cost, not an estimate.
No more surprises when the bill comes.
If you are looking for an Expert Long Beach Electrician then give us a call today
at (631) 240-9663 or complete our request service form.