Port Jefferson Electrician & Electrical Repair Contractor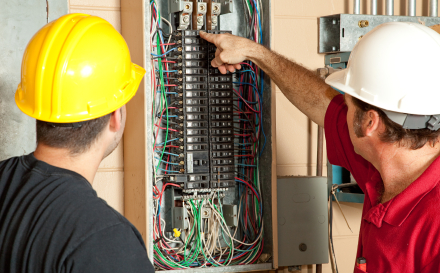 A licensed electrician can do wonders for your home. Maintaining the wired framework of houses is what we do best. Let the experienced professionals at Sure Line Electric be your electricla partner.
Port Jefferson Panel Upgrades
Electric panels are the backbone of your house's electric system. As such, you must maintain them properly or else the whole frame work could be at risk. We specialize in keeping your safet our number one priority. Let us upgrade your electric panel to keep things running smoothly and effeciently.
Port Jefferson Electrical Repairs
Wiring got you stumped? Let us take a look. We are happy to help you troubleshoot and repair any wiring task before you. Don't subject yourself to unnecessary stress. Call Sure Line Electric today.
Port Jefferson Electrical Inspections
The Electrical Safety Foundation International says that electrical inspections are necessary when buying a home. You wouldn't purchase a car without looking under the hood, so don't buy a house without checking the wiring.
Recent Port Jefferson Electrical Articles

Landscape lighting is a home improvement trend sweeping the Port Jefferson area and is one of the most popular features in outdoor home improvement. It is one of the most dramatic improvements you can make to your Port Jefferson home ... [read more]

If you are contemplating a major remodel of your Port Jefferson home, the addition of a room or garage, or a new kitchen you should consider upgrading your electrical .... [read more]
If you are looking for an Professional Port Jefferson Electrician then give us a call today
at (631) 240-9663 or complete our request service form.