Bayville Electrician and Electrical Repairs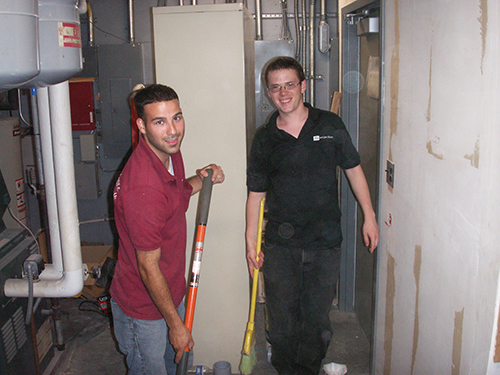 Electricity is one of the most critical parts of our daily lives. We use it for nearly every activity we take part in. It's so fundamental that we can easily take it for granted and may not notice its presence at all. When you have trouble with electricity, however, it can be hard to notice anything else. We know how important your home's electricity is, so when you experience any problems with it, our Bayville electricians will be there as soon as possible. It's very important that you never try to handle electrical repairs on your own, no matter urgent they may seem. These repairs can be extremely dangerous, and it's not worth the risk to you, your family, or your home. We'll respond to all requests for service as quickly as we can, and we'll repair them promptly. Our bayville electricians won't leave you waiting. We guarantee 100% satisfaction on all of the work we do. You'll receive the best possible workmanship from the most professional electricians in the area, all at the lowest prices possible. All of our Bayville electricians are licensed and professionally trained, so we know we can stand by their work. Call us today for an appointment and let us show you the difference professionalism can make.
Bayville Electrical Repairs
Whether you need help with a flickering light or you need your electrical system rewired, our Bayville electricians are standing by and ready to tackle the job. We'll make sure any repairs are done as quickly possible. No matter how pressing the problems may seem, never attempt to fix any electrical problems on your own. Even if you're able to get through the repairs without sustaining any injuries, you'll likely leave something that could extremely hazardous to you and your family. Faulty electrical wiring, in fact, is a leading cause of fires in the US. So always call a professional. Our Bayville electricians will give you thorough and accurate repairs. They'll be done as quickly as possible, but we won't let speed get in the way of quality work. For swift service you can trust, call Sure Line Electrical today.
Bayville Panel Upgrades
As more appliances and devices are being used in home, so is more electricity. And this number is rapidly growing, so many homeowners are finding themselves with outdated electrical panels. These can cause a lot of electrical problems throughout your home and also pose a significant threat to your safety. Our Barville electricians can help you determine if you need a panel upgrade or replacement based on your electrical usage. We'll help make sure your home is as electrically efficient as possible.
Bayville Electrical Inspection
Electrical inspections will help find any looming or potential electrical problems in your home. They can be hugely beneficial if you're planning on selling or buying a home. And if you haven't had electrical work done on in your home in some time, an inspection can help keep you away from unpleasant surprises. Our Bayville electricians will be thorough and make sure your home is safe and efficient..
Give us a call to learn more about our services or to schedule an appointment at (631) 240-9663 or complete our request service form.